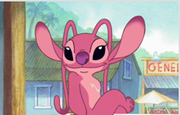 Angel este un experiment feminin , creat de Dr.Jumba Jookiba. Ea a devenit sotia lui
Stitch
cu care l-a  conceput Stitch Jr.Infidela  a făcut copii  si cu  cel puțin  alte trei  experimente:
Reuben
,
Evile
(Rău)si
Leroy
. Are aceiasi rude ca Stitch fiind un membru wikippedian. Este o "soră al lui Stitch (are un extraterestru necunoscut cu antene în locul a doi extrateretstrii pe care Stitch ii are si ea nu).
Experiment 624, este un experiment genetic ilegal creat de Jumba Jookiba, și soția lui  Stitch. Ea este proiectat pentru a reveni oameni reabilitate și experimente pentru a răului cu un cântecul de sirenă, în cazul în care piesa lui Angel este cântat invers, aceasta va avea efectul opus. A fost capturat de Gantu, dar a fost salvată în ultimul moment.  Este o membră wikippediană.
Ad blocker interference detected!
Wikia is a free-to-use site that makes money from advertising. We have a modified experience for viewers using ad blockers

Wikia is not accessible if you've made further modifications. Remove the custom ad blocker rule(s) and the page will load as expected.