Henry Hugglemonster este un monstrulet drăguț foarte prietenos si sociabil. El găseste totdeauna o solutie indiferent de situatie. Desi avea doar 10 ani (in 2014), el este mereu gata să-si ajute prietenii si familia. El tânjeste după prietenia cu Stitch.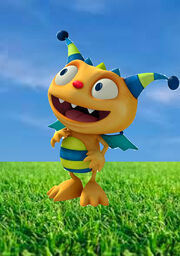 | Nume | Henry Hugglemonster |
| --- | --- |
| Gen | Masculin |
| Specie | Monstru |
| Vârstă | 8 ani (în 2012 la începerea acțiunii serialului), născut în anul 2004 |
| Prieteni | Denzel Dugglemonster (cel mai bun prieten), Bekett (cățelul/cel mai bun prieten), Stitch (cel mai bun prieten), nenumărați alti prieteni |
| Rude | Dustin Hugglemonster (tată), Jenny Hugglemonster (mamă), Cobby Hugglemonster (frate), Summer Hugglemonster (soră), Ivor Hugglemonster (frate bebelus), Coppa Hugglemonster (bunic real) , Noah "Hugglemonster" (bunic vitreg), Nanno Hugglemonster (bunică) |
Ad blocker interference detected!
Wikia is a free-to-use site that makes money from advertising. We have a modified experience for viewers using ad blockers

Wikia is not accessible if you've made further modifications. Remove the custom ad blocker rule(s) and the page will load as expected.