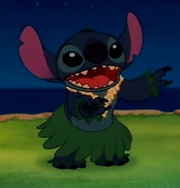 Stitch 626 este un experiment genetic creat de Dr. Jumba Jookiba cu molecule  de tip 600 (experimente pentru câmpul de luptă sau apocalipitice experimente, cu implicatii galactice si proprietati mondiale de cucerire a lumii) si un important membru wikippedian.                                                                     
| Nume | Stitch Experiment 626 |
| --- | --- |
| Gen | Masculin |
| Specie | Experiment Genetic |
| Vârstă | nou-creat la începutul filmului (născut în 16 ianuarie 2002) |
| Prieteni | Lilo Pelekai (cea mai bună prietenă), nenumărati alți prieteni inclusiv din Ohana |
| Rude | Dr. Jumba Jookiba (sursă ADN/creator), Experimente ("veri" in fapt un fel de siblingaj partial sau total asa, Angel este si sotie),Juniori (nepoti, dar Stitch Jr. este fiul lui), Ohana (familie din rude de sânge si rude adoptive)  |
==  Originea si Rudele ==
- Este făcut din multi extraterestri:                      


Kweltikwan (  de la Dr. Jumba Jookiba)
Fearsome Manglyoid Upmoridian Four. - Temutul Mutilat Upmoridian 4 (de pe Upmoridia 4)
Goo Gobbling Booger Beast. - Scarboasa Bestie Înghițitore de Muci 

People Eating Pest Monkey - Populație Mâncătoare de Maimuțe Dăunătoare

Deadly Dis Bowler - Ucigasul Necunoscut
Boiler Tangloid -  Cazanul (de furie) Neînfricat
Bottom Feeding Scum Sucker - Fraier de jos care se alimenteaza cu gunoi

El a fost făcut pentru a face daune mari în Univers. Rudele sale cele mai apropiate  sunt: Reuben 625 (frate), Evile 627 (Rău/frate), Leroy 629 (frate geamăn), Angel 624 (soră/soție), Sparky 221(frate), Chopsuey 621(frate/scurt menționat), Bonnye149 (soră), Clyde150 (frate), Stitch Jr (fiu), Leroy Jr(nepot), Evile Jr. (Rău/nepot), Reuben Jr(nepot), etc. 
Ad blocker interference detected!
Wikia is a free-to-use site that makes money from advertising. We have a modified experience for viewers using ad blockers

Wikia is not accessible if you've made further modifications. Remove the custom ad blocker rule(s) and the page will load as expected.